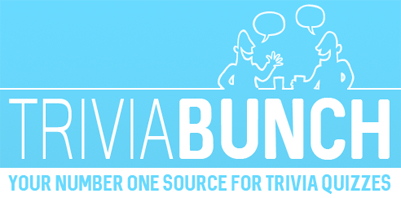 Trivia Quiz : Category : General
Question 1 of 10
What is the name of Pippa Middleton's royal sister?
Question 2 of 10
Where in England is the Royal Academy of Arts museum located?
Question 3 of 10
On what date is Boxing Day?
Question 4 of 10
What did Cliff Richard say that the devil woman had on her mind?
Question 5 of 10
Which of these is NOT an ingredient of a traditional Christmas cake?
Question 6 of 10
A sex tape starring Pamela Anderson and what musicians famously leaked out to the public?
Question 7 of 10
If you regualry eat lunch and dinner at motorway service stations, what is your likely job?
Question 8 of 10
The film monster 'Godzilla' is actually called what in Japan?
Question 9 of 10
Complete the title of this 1985 movie: ____ Science.
Question 10 of 10
Which of these is a nickname given to skateboarder Tony Hawk?

More trivia fun from us