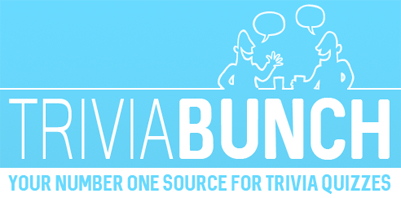 A quiz about food
Question 1 of 10
Bananas are in which USDA 2005 MyPyramid group?
Question 2 of 10
Why is it wise to decant most commercial brands of wine prior to consuming?
Question 3 of 10
Which of these foods is not a dairy food?
Question 4 of 10
What is the purpose of "Ronald McDonald House", the McDonald's charity?
Question 5 of 10
Which vegetable is most often seen covered in cheese sauce?
Question 6 of 10
During what holiday is candy corn typically eaten?
Question 7 of 10
Which brand of snack claims to be "dangerously cheesy"?
Question 8 of 10
What kind of cake is traditionally used for a wedding cake in England?
Question 9 of 10
What might Italians call maize?
Question 10 of 10
American pioneer, John Chapman, was famous for planting which kind of tree?

More trivia fun from us